What Am I Supposed To Look Like Now?
May 29, 2009
Me, pre- hair chop: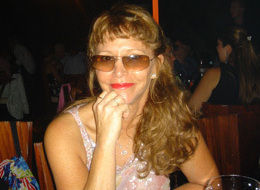 I had an epiphany recently and it said that a woman's hair should not promise a fecundity that her ovaries can't support. I went to my hairstylist with the order to "chop it all off" and let me tell you what a mass orgasm those words inspire in a salon! Immediately everyone in our vicinity was coming by with huge smiles and looks that could only be described as slightly feral. This is what they live for; someone coming in and letting them use every scissor, razor and thinning sheer at their disposal and then top it off with product (I love hairdresser lingo.)
Before my Girlfriends with long hair call me out as a hater, this was a very personal epiphany, although I do recommend considering it. Like most women, I've had a love/hate relationship with my hair; wanting it straighter in my teens, curlier in my thirties, thicker in my forties and less gray (or as TV commercials say, "fewer grays," which suggests that they are still so rare as to be individually addressed.)
Even before Paris Hilton did, I discovered hair extensions and wore them delusionally on my fiftieth birthday. It was one of those pathetic mid-life moments when you don't know whether to cover your upper arms or wear a triangle bikini. I had no idea what I was supposed to look like at fifty. My Girlfriend Carol calls this the Been There, Not Done Yet stage of life. My identity crisis became horrifyingly clear one day as I sashayed out of a hair salon in tight jeans and a full mane and heard a cat call from behind me. I turned around and the caller actually seemed froze with silent pursed lips like he was facing the Crypt Keeper. There was no truth in what I was advertising. That's the dishonest part of long hair, the illusion starts and stops from behind, no matter how cute your bootie is.
The first thing I discovered after going so short is that my face is much bigger than I thought. Who knew that my temples and jawline were so significant to my appearance? There was no place to hide. The second thing I discovered was that my ears needed sun block as much as my nose did, and let's not forget the back of my neck. I developed an almost pathological habit of applying powder to my high forehead since it reflected light like a chrome grill.
Now that it's grown out some, looking more like Mia Farrow's in Rosemary's Baby (I wish) or Jamie Lee Curtis (more likely) I've relaxed a bit and truly like my look. So do most of my Girlfriends, who tell me that it makes me look younger/hipper/thinner and all the other right er things. Gay men die for it and so do some straight men. Europeans give me great reviews, but then again, it is the French who decreed that after age forty, hair must be no longer than top of the shoulder. Those corkscrew-y "beach curls" that are all the rage on "The Real Housewives" shows make European women's teeth grate.
Since I cut my hair, the most common compliment is, "You're so brave," and, while that wasn't necessarily what I was going for, I do agree. I decided to cut my hair as a symbolic way of coming out of hiding. There are few things so in your face as my face. I confess, I would still pause to apply eyebrow pencil even as a tsunami threatened California, and I could find the right shade of lipstick quickly enough under threat of total devastation, I would apply that, too. But the general statement of "What you see is what you get," feels courageous to me. I like less artifice and cherish the sort of athletic freedom I feel when I walk out with wet hair and trust it to take care of itself.
Perhaps that's the essence of what I seek: less time preparing for life and more time living it.